The Force – Jedi Powers – Dark Side Powers – Converted Powers
The Force
The Force is believed to be a metaphysical, binding, and ubiquitous power that holds enormous importance for both the Jedi and Sith monastic orders. The Force is viewed in many different aspects, including, but not limited to, the light side, the dark side, the Unifying Force, and the Living Force. The first two aspects were concerned with the moral compass of the Force in its various manifestations. The light side of the Force was the facet aligned with compassion, courage, healing, and benevolence, while the dark side of the Force was the element aligned with hatred, fear, aggression, and malevolence. The latter two aspects were defined by prominent Jedi philosophies: The Unifying Force essentially embraced space and time in its entirety while the Living Force dealt with the energy of living things. Though the Force was categorized in this way, there were no specific abilities or powers that were only usable by a follower of a different path of the Force; the Force partially existed inside the life forms that used it, and drew energy from their emotions.
Some beings, particularly the Sith, believed that the dark side of the Force was more powerful than the light, though it was possible that the dark side was just more tempting to those who used it (or desired to use it). Others thought of the Force as an entity capable of intelligent thought, almost as a sort of god. Anakin Skywalker, who was believed to have been conceived by the Force itself, may have; if this belief is correct; lent credit towards the view of the Force as a sentient entity.
Though the Force was thought to flow through every living thing, it could only be harnessed by beings described as "Force-sensitive". This Force-sensitivity was correlated with, and sometimes attributed to, a high count of internal microorganisms called midi-chlorians that were found in a Force-sensitive's blood: the higher the count, the greater the being's potential Force ability, though there were some exceptions to this rule. Force-sensitive beings were able to tap into the Force to perform acts of great skill and agility as well as control and shape the world around them. Sometimes this ability was described as having a strong Force "aura".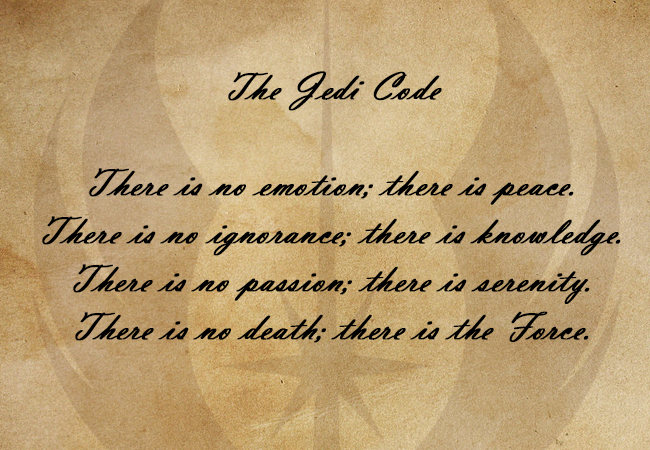 | | | | |
| --- | --- | --- | --- |
| Relationship Modifiers | | Proximity Modifiers | |
| User and target are: | Add to difficulty: | User and Target are: | Add to difficulty: |
| Close Relatives | 0 | Touching | 0 |
| Close Friends | +2 | In Line of Sight | +2 |
| Friends | +5 | Out of Sight, 100 Meters | +5 |
| Acquaintances | +7 | Up to 10 km away | +7 |
| Slight Acquaintances | +10 | Up to 1,000 km away | +10 |
| Met Once | +12 | Same Planet, over 1,000 km | +15 |
| Never Met, Known by Reputation | +15 | Same Star System, Different Planet | +20 |
| Complete Strangers | +20 | Not in the Same Star System | +30 |
| Stranger of Another Species | +30 | | |
Jedi Powers
Control
Absorb/Dissipate Energy
Accelerate Healing
Adrenaline Adjustment
Breath Control
Calculate
Calm
Channel Energy
Cognitive Trance
Combat Trance
Concentration
Contort/Escape
Control Disease
Control Pain
Detoxify Poison
Emptiness
Enhance Attribute
Force of Will
Heal
Hibernation Trance
Imitate
Instinctive Astrogation Control
Perceptive Trance
Regenerate
Reduce Injury
Remain Conscious
Remove Fatigue
Repel Force Lighting
Resist Force
Resist Stun
Short-Term Memory Enhancement
Wisdom
Sense
Alert Sense
Beast Languages
Blind Sense
Combat Sense
Danger Sense
Direction Orientation
Direction Sense
Electronic Sense
Eyes of the Force
Force Track
Hyperspace Tracking
Instinctive Astrogation
Illusion Bond
Life Detection
Life Sense
Life Web
Magnify Senses
Merge Senses
Postcognition
Predict Natural Disaster
Radar Sense
Receptive Telepathy
Sense Disturbance
Sense Force
Sense Path
Sense Force Potential
Sense Force Strength
Sense Spirit
Sense Surroundings
Shatterpoint Sense
Shatterpoint Strike
Shift Sense
Time Sense
Translation
Truth Sense
Weather Sense
Alter
Cryokinesis
Empower Weapon
Force Push
Grenade Defense
Kinetic Combat
Telekinesis
Control and Sense
Disguise
Enhanced Reflexes
Farseeing
Life Bond
Lightsaber Combat
Mediation
Perfect Telepathy
Projective Telepathy
Taming Beasts
Control and Alter
Accelerate Another's Healing
Control Another's Disease
Control Another's Pain
Control Breathing
Detoxify Another's Poison
Force Repair
Force Stasis
Link
Memory Walk
Place Another in Hibernation Trance
Remove Another's Fatigue
Return Another to Consciousness
Thought Bomb
Transfer Force
Sense and Alter
Dim Another's Senses
Fold Space
Force Shield
Control, Sense and Alter
Affect Mind
Battle Meditation
Enhanced Coordination
Force Harmony
Illusion
Masquerade
Projected Fighting
Sever Force
Dark Side Powers
Control
Anger
Blackness
Channel Rage
Rage
Force Punch
Force Scream

Sense
Alter
Ballistakinesis
Break Bones
Bolt of Corruption
Bolt of Hatred
Cell Burst
Combustion
Dark Side Web
Force Blast
Force Static
Force Whirlwind
Injure/Kill
Control and Alter
Aura of Uneasiness
Electronic Manipulation
Feed on Dark Side
Force Lightning
Inflict Pain
Waves of Darkness
Control and Sense
Sense and Alter
Control, Sense and Alter
Control Mind
Create Force Storms
Doppelganger
Drain Life Energy
Drain Life Essence
Memory Wipe
Telekinetic Kill
Transfer Life
Converted Powers
Control
Sense
Force Shot
Guided Attack
Nature Affinity
Sense Surroundings
Alter
Empower Force
Enlarge Force
Extend Force
Force Flight
Force Light
Inspire
Kinetic Combat
Maximize Force
Shadow Bomb
Split Force
Control and Alter
Create Force Talisman
Drain Energy
Enhance Another's Attribute
Force Jump
Force Weapon
Hatred
Morichro
Plant Surge
Redirect Energy
Control and Sense
Battle Meld
Shield Gauntlet Defense
Sith Sorcery
Sith Sword Combat
Sense and Alter
Control, Sense and Alter