HoloNet News Vol 531 No 54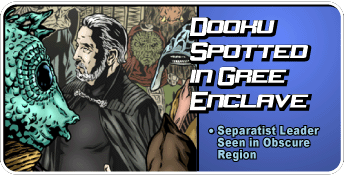 SATIKAN, ASATION – The Senate Bureau of Intelligence has confirmed sporadic reports that Count Dooku, popular leader of the Separatist movement, was spotted earlier in the week in a remote area of the Outer Rim known as the Gree Enclave. Full Story >>
Other Headlines
Content available to paid subscribers:
• Palpatine: A Complete Biography
See REPUBLIC D 12
• Gun Control: Who Are We Kidding?
See EDITORIAL G 12
• Corrections
See APPENDIX Y 3-24
Quick Poll
Is Dooku Behind the Separatist Violence?
Yes 77%
No 23%
Original Source: http://www.holonetnews.com/54/

HoloNet News Vol. 531 #54 was one of many in-universe HoloNet News issues published shortly before the release of Attack of the Clones. This issue was released May 2, 2002. In-universe, it was published on the date 13:5:2, which corresponds to 22 BBY.