Episodes – Characters – Starships – Vehicles – Planets – Aliens – Droids – Creatures – Equipment – Force Powers
The series follows a motley group of rebels who live aboard the starship Ghost as they fight against the evil Galactic Empire. The rebels include Ezra Bridger, a young orphan from Lothal who learns he can use the Force; Kanan Jarrus, a Jedi who survived Order 66; Hera Syndulla, a Twi'lek pilot and veteran resistance fighter; Sabine Wren, a Mandalorian explosives expert; Garazeb "Zeb" Orrelios, a Lasat warrior; and the cantankerous astromech droid C1-10P, also known as Chopper. The crew will eventually help give rise to the Rebel Alliance.
The Rebels Source Guide is in development.
Episodes
Rebels Season 1 (5 BBY / 995 GC – 4 BBY / 996 GC)
| | | | |
| --- | --- | --- | --- |
| Chronological Order | Episode | Title | Original Airdate |
| 1 | S00E01 | The Machine in the Ghost | August 11, 2014 |
| 2 | S00E02 | Art Attack | August 18, 2014 |
| 3 | S00E03 | Entanglement | August 25, 2014 |
| 4 | S00E04 | Property of Ezra Bridger | September 1, 2014 |
| 5 | S01E01 | Spark of Rebellion Part 1 | October 3, 2014 |
| 6 | S01E02 | Spark of Rebellion Part 2 | October 3, 2014 |
| 7 | S01E03 | Droids in Distress | October 13, 2014 |
| 8 | S01E04 | Fighter Flight | October 20, 2014 |
| 9 | S01E05 | Rise of the Old Masters | October 27, 2014 |
| 10 | S01E06 | Breaking Ranks | November 3, 2014 |
| 11 | S01E07 | Out of Darkness | November 10, 2014 |
| 12 | S01E08 | Empire Day | November 17, 2014 |
| 13 | S01E09 | Gathering Forces | November 24, 2014 |
| 14 | S01E10 | Path of the Jedi | January 5, 2015 |
| 15 | S01E11 | Idiot's Array | January 19, 2015 |
| 16 | S01E12 | Vision of Hope | February 2, 2015 |
| 17 | S01E13 | Call to Action | February 9, 2015 |
| 18 | S01E14 | Rebel Resolve | February 23, 2015 |
| 19 | S01E15 | Fire Across the Galaxy | March 2, 2015 |
Rebels Season 2 (4 BBY / 996 GC – 3 BBY / 997 GC)
| | | | |
| --- | --- | --- | --- |
| Chronological Order | Episode | Title | Original Airdate |
| 20 | S02E01 | The Siege of Lothal Part 1 | June 20, 2015 |
| 21 | S02E02 | The Siege of Lothal Part 2 | June 20, 2015 |
| 22 | S02E03 | The Lost Commanders | October 14, 2015 |
| 23 | S02E04 | Relics of the Old Republic | October 21, 2015 |
| 24 | S02E05 | Always Two There Are | October 28, 2015 |
| 25 | S02E06 | Brothers of the Broken Horn | November 4, 2015 |
| 26 | S02E07 | Wings of the Master | November 11, 2015 |
| 27 | S02E08 | Blood Sisters | November 18, 2015 |
| 28 | S02E09 | Stealth Strike | November 25, 2015 |
| 29 | S02E10 | The Future of the Force | December 2, 2015 |
| 30 | S02E11 | Legacy | December 9, 2015 |
| 31 | S02E12 | A Princess on Lothal | January 20, 2016 |
| 32 | S02E13 | The Protector of Concord Dawn | January 27, 2016 |
| 33 | S02E14 | Legends of the Lasat | February 3, 2016 |
| 34 | S02E15 | The Call | February 10, 2016 |
| 35 | S02E16 | Homecoming | February 17, 2016 |
| 36 | S02E17 | The Honorable Ones | February 24, 2016 |
| 37 | S02E18 | Shroud of Darkness | March 2, 2016 |
| 38 | S02E19 | The Forgotten Droid | March 16, 2016 |
| 39 | S02E20 | The Mystery of Chopper Base | March 23, 2016 |
| 40 | S02E21 | Twilight of the Apprentice Part 1 | March 30, 2016 |
| 41 | S02E22 | Twilight of the Apprentice Part 2 | March 30, 2016 |
Rebels Season 3 (2 BBY / 998 GC – 1 BBY / 999 GC)
| | | | |
| --- | --- | --- | --- |
| Chronological Order | Episode | Title | Original Airdate |
| 42 | S03E01 | Steps into Shadow Part 1 | September 24, 2016 |
| 43 | S03E02 | Steps into Shadow Part 2 | September 24, 2016 |
| 44 | S03E03 | The Holocrons of Fate | October 1, 2016 |
| 45 | S03E04 | The Antilles Extraction | October 8, 2016 |
| 46 | S03E05 | Hera's Heroes | October 15, 2016 |
| 47 | S03E06 | The Last Battle | October 22, 2016 |
| 48 | S03E07 | Imperial Supercommandos | November 5, 2016 |
| 49 | S03E08 | Iron Squadron | November 19, 2016 |
| 50 | S03E09 | The Wynkahthu Job | November 26, 2016 |
| 51 | S03E10 | An Inside Man | December 3, 2016 |
| 52 | S03E11 | Visions and Voices | December 10, 2016 |
| 53 | S03E12 | Ghosts of Geonosis Part 1 | January 7, 2017 |
| 54 | S03E13 | Ghosts of Geonosis Part 2 | January 7, 2017 |
| 55 | S03E14 | Warhead | January 14, 2017 |
| 56 | S03E15 | Trials of the Darksaber | January 21, 2017 |
| 57 | S03E16 | Legacy of Mandalore | February 18, 2017 |
| 58 | S03E17 | Through Imperial Eyes | February 25, 2017 |
| 59 | S03E18 | Secret Cargo | March 4, 2017 |
| 60 | S03E19 | Double Agent Droid | March 11, 2017 |
| 61 | S03E20 | Twin Suns | March 18, 2017 |
| 62 | S03E21 | Zero Hour Part 1 | March 25, 2017 |
| 63 | S03E22 | Zero Hour Part 2 | March 25, 2017 |
Rebels Season 4 (1 BBY / 999 GC – 0 BBY / 1000 GC)
| | | | |
| --- | --- | --- | --- |
| Chronological Order | Episode | Title | Original Airdate |
| 64 | S04E01 | Heroes of Mandalore Part 1 | October 16, 2017 |
| 65 | S04E02 | Heroes of Mandalore Part 2 | October 16, 2017 |
| 66 | S04E03 | In the Name of the Rebellion Part 1 | October 23, 2017 |
| 67 | S04E04 | In the Name of the Rebellion Part 2 | October 23, 2017 |
| 68 | S04E05 | The Occupation | October 30, 2017 |
| 69 | S04E06 | Flight of the Defender | October 30, 2017 |
| 70 | S04E07 | Kindred | November 6, 2017 |
| 71 | S04E08 | Crawler Commandeers | November 6, 2017 |
| 72 | S04E09 | Rebel Assault | November 13, 2017 |
| 73 | S04E10 | Jedi Night | February 19, 2018 |
| 74 | S04E11 | DUME | February 19, 2018 |
| 75 | S04E12 | Wolves and a Door | February 26, 2018 |
| 76 | S04E13 | A World Between Worlds | February 26, 2018 |
| 77 | S04E14 | A Fool's Hope | March 5, 2018 |
| 78 | S04E15 | Family Reunion and Farewell Part 1 | March 5, 2018 |
| 79 | S04E16 | Family Reunion and Farewell Part 2 | March 5, 2018 |
Characters
Starships
Starfighters
Space Transports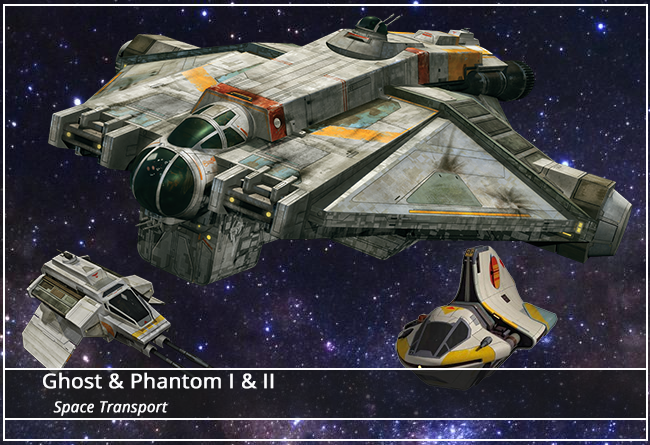 Capital Ships
Vehicles
Air
Land
Water
Planets / Locations
Planets
Cities / Points of Interest
Starports
Aliens
Droids
Creatures
Equipment
Weapons
Personal Gear
Heavy Equipment
Force Powers