Aliens
Abednedos were a sentient species native to the planet of the same name in the Colonies region of the Galaxy. Abednedo were humanoid and mammalian, and their face featured dangling mouth tendrils and two fleshy nostrils.
Creatures
Luggabeasts were a non-sentient quadruped species that lived in the galaxy. They were found on frontier worlds, their masks were fused permanently onto their faces, and mechanical invasive systems enhanced their durability and working capabilities to well beyond their natural abilities. They did not require food or water, as nutrients were fed directly into them via wires.
Vehicles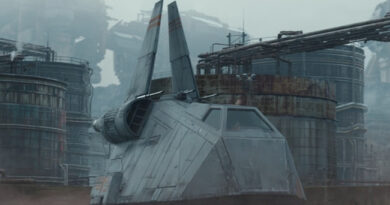 The Mobile Tac-Pod was a type of transport. During the Imperial Era, three Mobile Tac-Pods descended to a village on Ferrix, ferrying Syril Karn and his corporate authority officers.
Starfighters
The droid tri-fighter was a model of droid starfighter utilized by the Confederacy of Independent Systems during the Clone Wars. It was specifically designed to engage and excel in heavy dogfighting.
Space Transports
The Preox-Morlana personnel carrier was a class of personnel carrier owned and operated by the Pre-Mor Authority. It was utilised to transport members of the Corporate Tactical Forces to the different territories and star systems under the jurisdiction of Preox-Morlana.
Capital Ships
The Gladiator-class was a small Star Destroyer that shared its keel design with the Broadside-class cruiser. A ventral protrusion on the hull appeared to cover the ship's main reactor, but was also the location of several cannons. The class had two main thrusters and no visible secondary thrusters.
Force Powers
A Nightsister using the Ruination spell Ichor Tendrils has the ability to trap and crush their intended target. It can be countered by a force user using Force Repulse.
Blog
Unlike their predecessors, the majority of stormtroopers were non-clone recruits. Imperial cadets were shipped off to Imperial Academies, and subjected to rigorous training programs in order to produce highly trained shock troopers fiercely loyal to the Empire.