Characters
Fodesinbeed Annodue was a two-headed Troig able to commentate in two languages simultaneously: Fode (the thinner, red head) in Basic and Beed (the larger, green head) in Huttese.
Droids
The COO cook droid was a class-five chef droid created as a joint venture between Industrial Automaton and Publictechnic before the Clone Wars.
Vehicles
The EasyRide passenger airspeeder, also known as Coruscant air taxis were repulsorcraft vehicles that operated on the planet Coruscant.
Starfighters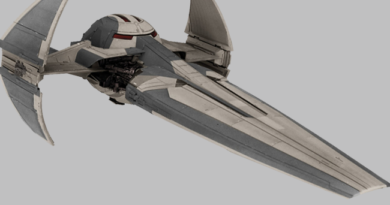 The Scimitar, also known as the Sith Infiltrator, was a heavily modified Star Courier and the personal starship of Darth Maul. After his defeat during the Battle of Naboo, the experimental starfighter was appropriated by Maul's master, Darth Sidious.
Space Transports
The YT-1300 light freighter was one of the most successful of Corellian Engineering Corporation's freighter designs. Conceived by a panel of CEC shipbuilding experts with help from Narro Sienar, the YT-series went on to become one of the most popular space transport hulls ever produced, revolutionizing the interstellar shipping industry with its unparalleled application of modular design.
Capital Ships
Making regular trips around the Outer Rim, the Corellian Starliner-Class Cruiser would make weekly trips between major star ports such as Mos Espa on Tatooine.
Locations
Orto Plutonia was a frigid planet located in the Pantora system of the Outer Rim Territories' Sujimis sector.
Equipment
Also known as baromeroid sensor is a type of sensor that reacts to changes in weight on its surface. It employs sense-plat
Force Powers
Fold space was a Force power that allowed a Force-user to bend space to instantly transport an object between places.
Blog
The Book of Boba Fett has released and we were treated with Chapter One: Stranger in a Strange Land. This