HoloNet News Vol 531 No 47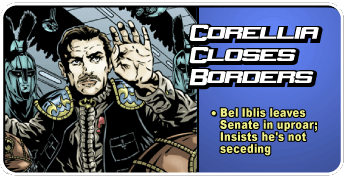 SENATE ROTUNDA, CORUSCANT – The Senate chambers filled with loud outcries of protest and dismay yesterday morning following Senator Garm Bel Iblis' surprise announcement that Corellia would close its borders and pull out of the Military Creation Act vote. Full Story >>
Other Headlines
Content available to paid subscribers:
• Yarua to Tikkes: "Ruuarraararagh!"
See NEWS D 3
• Local Man Ruins Everything
See REGIONAL D 11
• The Outer Rim: Should We Care?
See EDITORIAL G 44
Quick Poll
Do you still consider Corellia part of the Republic?
Yes 76 %
No 24 %
Original Source: http://www.holonetnews.com/47/

HoloNet News Vol. 531 #47 was one of many in-universe HoloNet News issues published shortly before the release of Attack of the Clones. This issue was released March 14, 2002. It is also included in The Cestus Deception. Its in-universe date is 13:3:14 GrS.