HoloNet News Vol 531 No 49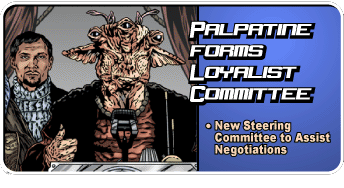 GALACTIC CITY, CORUSCANT – In anticipation of future negotiations with the separatists as well as to assist in the general handling of the crisis, Supreme Chancellor Palpatine revealed the members of the newly formed Loyalist Committee today. Full Story >>
A Closer Look
Most Popular Baby Names
1. Losibaru
2. Janara
3. Barada
4. Gaeriel
5. (Sharp keening at 85 cycles, followed by five atonal mandible clicks)
Quick Poll
Who is most to blame for the current Separatist crisis?
Supreme Chancellor Palpatine: 50%
Count Dooku: 28%
The Jedi: 17%
Other: 5%
Original Source: http://www.holonetnews.com/49/

HoloNet News Vol. 531 #49 was one of many in-universe HoloNet News issues published shortly before the release of Attack of the Clones. This issue was released March 28, 2002. In-universe, it was published on the date 13:3:28, which corresponds to 22 BBY.