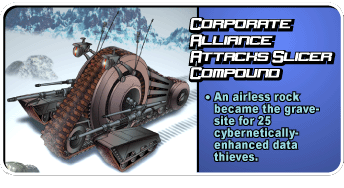 FAKIR SECTOR NODE – Forces of the Corporate Alliance unleashed volleys of missile-delivered retribution to an industrial espionage training center on a remote asteroid in the Fakir sector. Yirt-4138-Grek-12, a 65-kilometer diameter airless rock, became the grave-site for 25 cybernetically-enhanced data thieves when Corporate Alliance tank droids leveled a clandestine compound funded by unknown parties. Full Story >>
Corrections
• On 2:28, we erroneously referred to Deland Tyerell by his former Aleenan racing nickname of "Pabs." Tyerell has not used that name in several years, and we apologize for the error.
• On 2:21, we reported on the secession of the Bimkall sector from the Republic. Upon further review, that sector does not exist. HoloNet News apologizes for any confusion.
Quick Poll
What do you think of Palpatine's attempts of negotiation with the Separatists?
The solution to this crisis lies in diplomacy: 26%
It is futile, and he is stalling the inevitable: 28%
He makes the Republic look weak: 29%
Other: 17%