Nuna-Ball League Looks to Expand
ANTELUMA, COMMENOR – NBL commissioner and former holomag mogul, Lysko Buelia, attended Serv-O-Droid RIC series' 81-57 win over Accutronic's B1 team last night, and afterward hinted that the young Nuna-Ball League is again investigating an aggressive expansion for next season.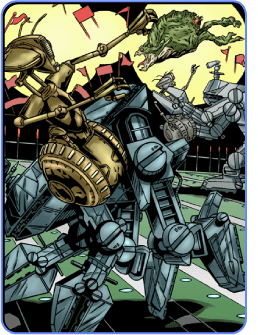 "The game has come along way since its origins as a product benchmark stress-test at Consumer Automata holomag," said Buelia. "We're playing to capacity crowds in every arena on the tour, and our Sports Signal coverage has been upgraded from HSES6 to HSES4."
Nuna-Ball has proven to be the most profitable major sport in history, due largely to a negligible costing structure. The droid players are simply pulled from the factory line by the team manufacturers and can be shipped from contest to contest via sub-cargo class. Nunas are in plentiful supply. Repair technicians and sideline models are the only sentients required.
"The advertising and promotional value alone makes team ownership very attractive to the major droid manufacturers," Buelia claims. "We've been approached by Trang Robotics, Les Tech, Holowan Mechanicals and many others." Previous reports suggest the league may attempt to double in size from 16 to 32 teams.
With success has come detractors. Both the Biological Athletes Union and the Committee Against Non-Sentient Abuse have been protesting matches. These social objections have failed to gain traction with the public, however.
"Nuna-ball isn't all about seeing a noisy rodent punted 60 meters," defends Buelia. "Internal research tells us that seeing droids get their heads ripped off is equally popular. Combine that with the glamour of droid-show models and over-sized snacks and you've got a family outing that's hard to beat."
On the field, the endurance, speed and mobility of the RICs proved too much for the much stronger, but less agile B1s. While a high-scoring match, the standing-room-only crowd grew restless as player destruction was limited to surface damage.
In other matches last week, the Veril Line Systems Otoga team frustrated the play of the Industrial Automaton ASP series, defeating the inconsistent squad 76-59. The Roche 8D team vowed to get even in their next match as the Cybot Galactica CLL-6 series reversed three drives using their proprietary binary load lifting technology, winning the contest 67-41. Finally, the quiet and humble work-ethic of the Publictechnic JR series lifted them to a 55-54 upset win over the physically and intellectually superior Loronar B3NK lineup.