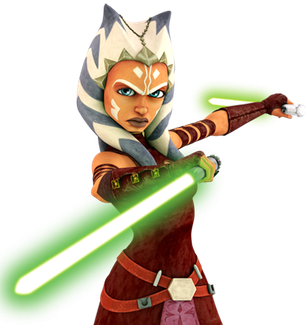 Name: Ahsoka Tano
Homeworld: Shili
Species: Togruta
Gender: Female
Age: 18
Height: 1.61 meters

DEXTERITY: 3D+2
Blaster: 3D+2
Dodge: 5D+2
Lightsaber: 6D+1
PERCEPTION: 3D
Bargain: 3D+2
Command: 5D
Con: 3D+2
Hide: 5D+2
Persuasion:3D+2
Sneak: 5D+2
KNOWLEDGE: 3D+1
Scholar (Jedi Lore): 4D+2
Survival: 4D
Tactics: 4D+1
STRENGTH: 3D+1
Climbing/Jumping: 6D
MECHANICAL: 3D+1
Repulsorlift Operation: 5D
Starfighter Piloting: 5D+1
Space Transports: 5D
Starship Gunnery: 4D+2
Sensors: 4D
Vehicle Weapons: 4D+2
TECHNICAL: 2D+2
Demolitions: 4D
First Aid: 4D+1
Lightsaber Repair: 4D+2
Medicine: 4D+1
Space Transports Repair: 4D
Special Abilities:
Montrals: Togruta can ultrasonically echolocate using the large hollow headbones that project from their skull (called Montrals), allowing them to perceive their location even in full darkness. This gives them +1D to counter all penalties for poor light or darkness.
Team Togruta: Togruta naturally band together for safety and to achieve goals, this natural talent for teamwork gives them a bonus +1D when working with other Togruta.
Control: 5D
Accelerate Healing, Absorb/Dissipate Energy, Concentration, Enhance Attribute, Hibernation Trance, Rage, Resist Stun, Force push, Force Jump
Sense: 4D+2
Combat Sense, Danger Sense, Life Detection, Life Sense, Magnify Senses, Sense Force
Alter: 4D+2
Telekinesis
Control and Sense
Lightsaber Combat
Control, Sense and Alter
Affect Mind
These are the known powers Ahsoka Tano possessed and it is believed that she had access to other powers.
EQUIPMENT: Twin Lightsabers (Green), Jedi robes
FORCE SENSITIVE – Y
FORCE POINTS 8
DARK SIDE POINTS 0
CHARACTER POINTS 7
Move: 10