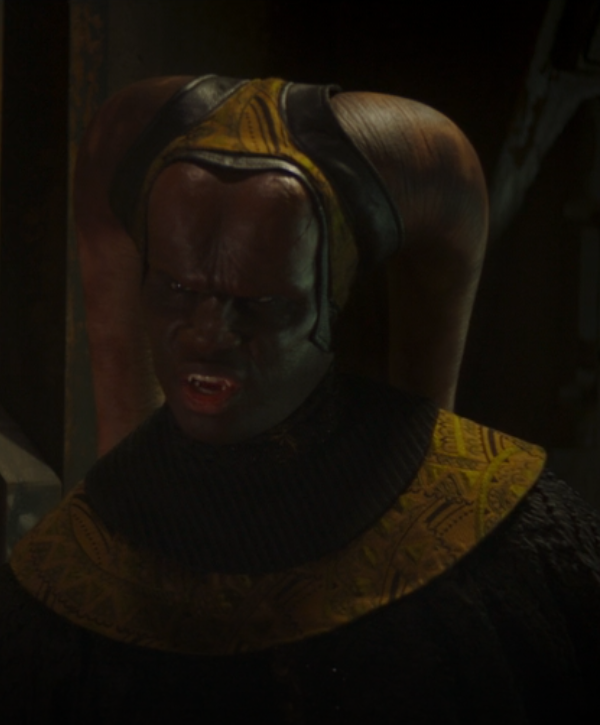 Name: Twi'lek doorman
Type: Bouncer
Species: Twi'lek
Homeworld: Ryloth
Gender: Male
Born: —
Died: —
Hair Color: —
Eye Color: Brown
Height: 2.1 meters
Weight: —
Skin: Dark
DEXTERITY 3D
Blaster: 4D+1
Brawling Parry: 5D+1
Dodge: 5D+1
Melee Combat: 4D+1
Melee Parry: 4D+2
KNOWLEDGE 2D
Intimidation: 4D+2
Streetwise: 3D+1
Willpower: 4D
MECHANICAL 2D
PERCEPTION 2D
Persuasion: 5D
Search: 4D+1
Sneak: 4D
STRENGTH 3D
Brawling: 5D+2
TECHNICAL 2D
Special Abilities:
Tentacles: Twi'leks can use their tentacles to communicate in secret with each other, even if in a room full of individuals. The complex movement of the tentacles is, in a sense, a "secret" language that all Twi'leks are fluent in.
Force Sensitive: N
Force Points: 0
Dark Side Points: 0
Character Points: 12
Move: 10
Equipment: Comlink
Background: A Twi'lek male doorman worked at a fighting pit when the Mandalorian Din Djarin visited to see the Abyssin Gor Koresh. The doorman let Djarin in, but later helped Koresh's assailants fight the Mandalorian after Koresh attempted to steal Djarin's beskar armor. Djarin defeated the Twi'lek and the rest of Koresh's assailants before intercepting the Abyssin.