Brawl at Regional Dejarik Tournament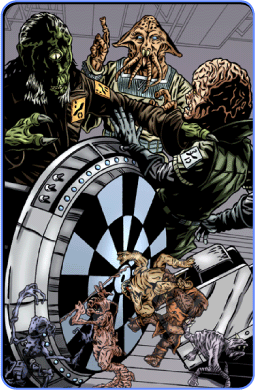 KANTI, ARKANIA – The holomonsters weren't the only opponents bludgeoning each other at the Colonies region Dejarik tournament last weekend.
Deep into his quarter-final match, Ohh Bronna looked well on his way to repeat his sector championship title against yonta-level player Corwin Kaezeb. Unexpectedly, Kaezeb's ng'ok sprinted across the board, pushing off the back of the houjix and drove a flying kick to the head of Bronna's savrip.
The characteristically composed Bronna sat in silence for a moment, then violently pushed the gameboard to the ground. He then leapt upon the shoulders of the stunned Kaezeb and began to strike his opponent in the head.
During the distraction, the losing players in two of the other concurrent quarter-finals took the opportunity to reset their own game boards, leading to shoving and yelling and eventually a full-blown brawl among the six players.
Bronna remained livid after being pulled from the scrum and restrained. "Not even a Neimoidian would pull that maneuver," he wheezed in pitiful exhaustion. "I bet he rigged the table to do it."
"It was a fair move," said a bloody Kaezeb. "Getting upset about it obviously didn't help. Though I must admit, it felt good to do my own fighting for a change."
In the true spirit of the game, players Garem Will and D'nisenz appeared to be in a trance as they finished the remaining quarter-final, not noticing the mayhem until their board flickered off. Due to a lack of established protocol for such circumstances, D'nisenz was declared Colonies champion.