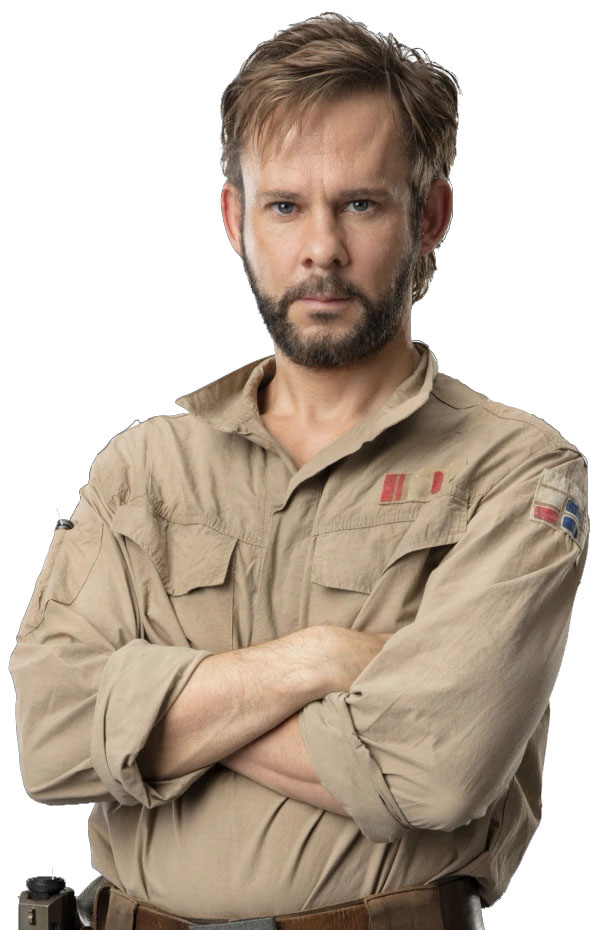 Name: Beaumont Kin
Type: Intelligence Officer
Species: Human
Homeworld: Lerct
Gender: Male
Age: 38
Hair Color: Blond
Eye Color: Blue
Height: 1.7 meters
Weight: —
Skin: Light
DEXTERITY 3D+2
Blaster: 5D+2
Blaster: Blaster Rifle 6D+2
Dodge: 4D+2
Grenade: 4D
Melee Combat: 4D+2
Melee Parry: 4D+1
KNOWLEDGE 2D
Alien Species: 5D+1
Bureaucracy: 4D
Cultures: 6D
Languages: 6D+2
Law Enforcement: 3D
Planetary Systems: 5D+1
Scholar: Cultural History 6D
Scholar: Jedi Lore 4D
Streetwise: 2D+2
Tactics: 5D
MECHANICAL 3D
Repulsorlift Operation: 3D+1
PERCEPTION 3D+2
Command: 4D+2
Search: 4D+2
STRENGTH 3D+2
Brawling: 5D
TECHNICAL 3D
Demolitions: 3D+2
First Aid: 3D+2
Security: 4D
Special Abilities:
None
Force Sensitive: N
Force Points: 2
Dark Side Points: 0
Character Points: 6
Move: 10
Equipment: Blaster Rifle (5D), Resistance Uniform, Comlink, Toolkit
Background: Beaumont Kin was a human male historian who served in the Resistance during their war with the First Order as a Resistance trooper. He participated in the attack on Kashyyyk.
Beaumont Kin was a human male and the son of a mother and father who he claimed told him he was "useless." According to Kin, this was the reason he threw away a promising future to join the Resistance, though it was unclear to fellow Resistance member Daz Crano if he was serious or not and Kin did not confirm.
Kin was on track to become one of the youngest professors at Lerct Historical Institute when the Hosnian system was destroyed. He abandoned his academical career and joined the Resistance, becoming a captain in the intelligence division.