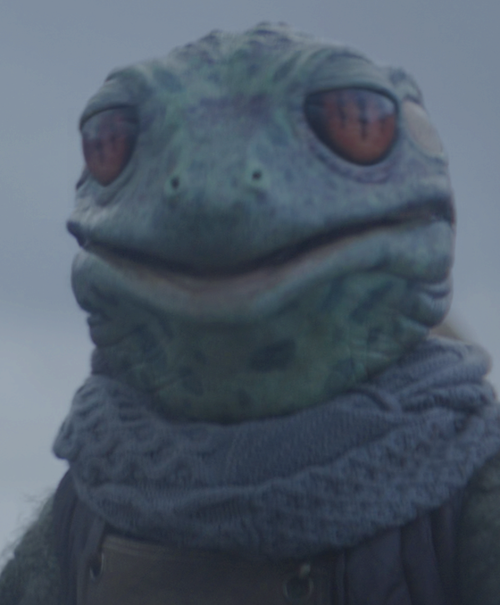 Name: "Frog Man"
Type: Traveler
Species: —
Homeworld: —
Gender: Female
Born: —
Died: —
Hair Color: None
Eye Color: Brown
Height: —
Weight: —
Skin: Pink
DEXTERITY 2D
KNOWLEDGE 2D
Cultures: 3D
Planetary Systems: 3D
MECHANICAL 2D
PERCEPTION 2D
Search: 3D
STRENGTH 2D
TECHNICAL 2D
Special Abilities:
Leap: This species can leap up to four meters high and eight meters forward.
Tongue: This species can use their prehensile tongue to grasp objects or do STR+1 damage.
Force Sensitive: N
Force Points: 0
Dark Side Points: 0
Character Points: 8
Move: 10
Equipment: Common robes
Background: "Frog Man" was the husband of Frog Lady who lived during the New Republic Era. He found a home on the moon of Trask where he told his wife to come. When Din Djarin succeeded in transporting his wife to Trask, Frog Man was very grateful and shook Djarin's hand. Later, Frog Man and his wife looked after Grogu as a favor to Djarin while he went on a mission.